Brand Overview
---

---
Profile
|
Website
Since our inception in 1998, Hallmark Floors continues to be driven by our love for wood and our passion for developing, producing and offering the most beautiful, smart and innovative flooring.
---

---
Profile
|
Website
|
What's New
Aacer Flooring, LLC is a family and employee-owned company with more than 100 years of experience in every part of the hardwood flooring industry.
---

---
Profile
|
Website
It serves as the ultimate barrier against staining and abrasions that come with everyday life.
Wood Flooring
Wood flooring is timeless. It enhances the warmth of any home and complements the decor of any room.
Like a fine piece of furniture, wood flooring increases in value and becomes more beautiful with time. In a national survey, 90 percent of real estate agents said that houses with wood flooring sell faster and for more money.
Wood is a natural resource, renewable and recyclable. Buildings, barns, ships and other structures made of wood often find a second life in wood flooring, cabinets, walls and ceilings. And leading allergists agree that wood floors are the perfect choice for a healthy home.
The state-of-the-art technology and almost limitless choices of today's stains, finishes, styles and designs make wood flooring one of the most practical, easy-care and versatile floor coverings today. Maintained properly, wood flooring should never have to be replaced.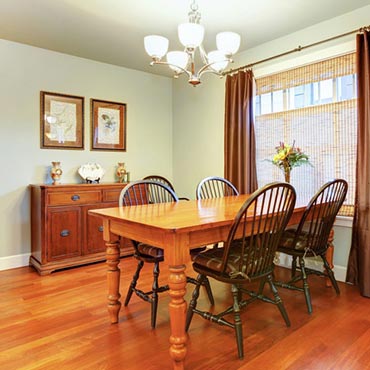 Education Links
Learn More
At Wayne Martin Floor Covering Inc we believe an educated consumer is our best customer.