Wood Flooring: Wood Flooring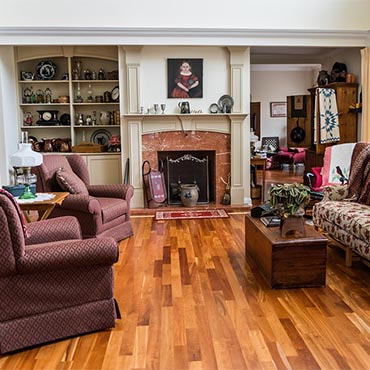 Wood flooring is any product manufactured from timber that is designed for use as flooring, either structural or aesthetic. Wood is a common choice as a flooring material and can come in various styles, colors, cuts, and species.
Brand Overview
---
---
Profile
|
Website
|
Warranty
|
Install
|
Maintain
|
FAQs
Somerset Wood Products is one of the largest manufacturers of Appalachian lumber and flooring in the midwest. Our corporate headquarters is located in Somerset, KY. We have two supporting production facilities, also located in the Somerset area, with a staff of over 300 employees. We also employ a full time forester, to oversee responsible forestry management practices that exceed Best Management Practice standards.
---
---
Profile
|
Website
|
Warranty
|
Install
|
Maintain
|
FAQs
|
Green
Since its founding in 1985, Mullican Flooring has dedicated itself to creating the highest-quality hardwood flooring in the world. The company's founders knew the combination of precision milling, advanced kiln-drying techniques and the most demanding inspectors available would result in products that would be unmatched by its competitors.
---

---
Profile
|
Website
|
What's New
Aacer Flooring, LLC is a family and employee-owned company with more than 100 years of experience in every part of the hardwood flooring industry.